Woman sues property management after Franklin duplex blast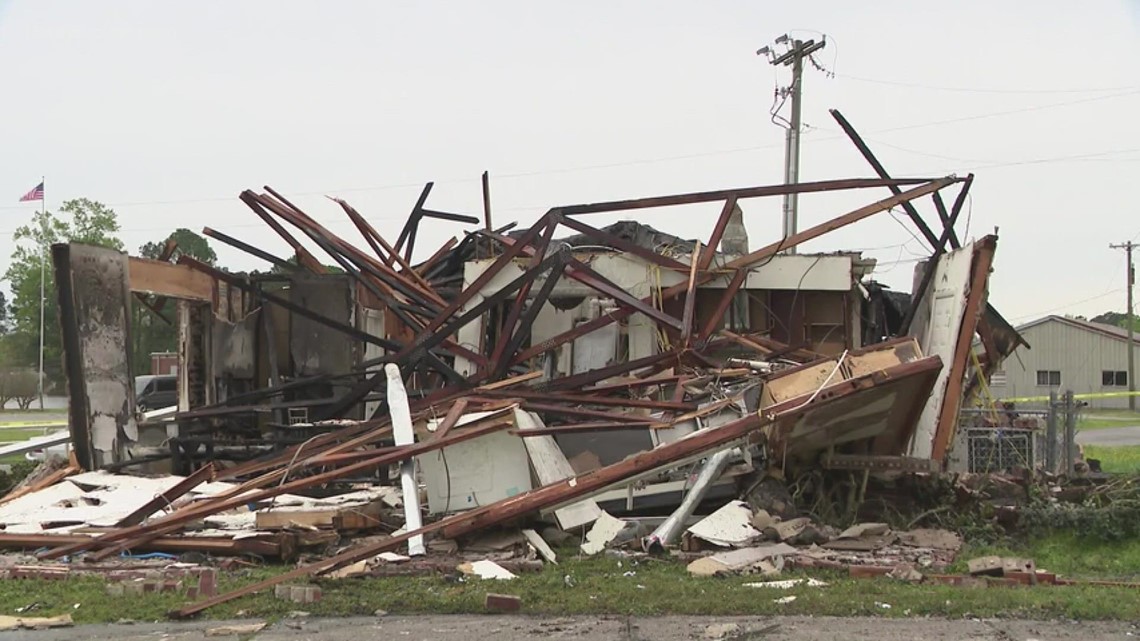 A woman who survived an explosion at a Franklin duplex is suing the building's property management team for $25 million. She claims they were aware of a propane smell.
FRANKLIN, Va. – Author's note: The above video is archived as of May 1, 2022.
A woman who survived a fatal explosion at a Franklin duplex is suing the building's property management team for $25 million.
The lawsuit dates back to April 15, when a house in the Berkley Court area was badly damaged by an explosion, shooting a column of flames and shaking nearby buildings. Two people went to the hospital with serious injuries.
Two weeks after the destruction, resident Michael Wiggins died of his injuries in a hospital.
There were no updates on the other person who was hospitalized by the blast until Cooper Hurley Injury Lawyers filed the lawsuit in Southampton on June 13.
The lawsuit claims that on April 15, Dionne Whitehead was in the duplex adjacent to the house that exploded. She was seriously burned.
Lawyers say she "has suffered and will continue to suffer great physical and mental pain; has suffered a permanent injury; has suffered and will suffer embarrassment and injury from scarring, disfigurement and deformity", as well as Other problems.
Part of the $25 million claim stems from the claim that she will have long-term medical bills and was so badly injured that she cannot earn a living as she did before the explosion.
Attorney Griffin O'Hanlon, one of the attorneys representing Whitehead, said Wiggins allegedly reported smelling propane before April 15.
Whitehead's neighbor, Theresa Keys, called the whole ordeal terrifying.
"To tell you the truth, I've been with her all along. I looked at this lady standing right there, and the firefighter and another resident dragged her out of there with the fire above her head. The look on his face was priceless. She was so terrified and so were we," Keys said. "It was the scariest thing I've ever seen in my entire life. In all my life. So I'm with her. Anything she can get."
The lawsuit claims Whitehead "suffered catastrophic injuries" and "massive burns."
The lawsuit says the propane hot water system directly caused the explosion – and that residents had alerted property managers to a smell of propane gas in the complex.
Virginia State Police, who investigated the incident to determine the cause, said the explosion was caused by a gas leak.
"I've been talking about smelling gas for years," Keys said. "Made so many complaints. They always said to me, 'Oh no, it's the sewers.' I know the difference between sewage and that eggy smell that comes from it. It's a total difference.
Construction crews cleared the site of the blast, but nearby homes still show signs of damage.
Keys said she and many other residents spent six weeks in a hotel because the apartment complex had no hot water after the explosion.
Keys told 13News his roof and windows are still damaged. Another neighbor has flooding and sewer issues.
"I'm still scared to live here, but I was ordered to come back here," Keys said. "It's a relief, I suppose, to be back home, but it's not a relief to know what can happen again."
Franklin resident Audrey Lee said people were frustrated.
"We're talking mold, sewage backup, very bug infested," Lee said. "They have broken windows that have been out since April 15, and something really needs to be done."
O'Hanlon said the next steps in the process are to serve the lawsuit on the two defendants, Berkley Court Apartments, LP and Severn Management of Virginia, LLC.
Then both parties will investigate further and share documents in a legal discovery phase.